Show your commitment to dog play safety by taking the Pet Center Off-Leash Play Safety Pledge.  Stand out from the crowd, instill pride in your staff, and let your clients know you are serious about making your pet center the best! Just click on "Take the Pledge" below to access the pledge, print it, and post it in your pet center.  The safety pledge serves as a daily reminder of what is most important to you. Once you take the pledge you'll receive
A safety badge icon to add to your website
A downloadable press release template so you can notify your community about your commitment
Facebook and newsletter samples to use in your business
Proudly sha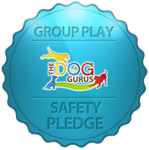 re your commitment to safety by sending out a press release and posting on Facebook or other social media venues using our templates.
The Safety Pledge is FREE, so don't delay…Take the Pledge today!
Who's behind this?  The Dog Gurus, Robin Bennett and Susan Briggs share a passion for safe off-leash dog play.  Since the publication of their book Off-Leash Dog Play: A Complete Guide to Safety and Fun, they have spent time educating the pet industry on dog language and safe management of playgroups.  As off-leash play venues grow in popularity they need help in this educational mission and see the importance of keeping a focus on safety first.

Share the pledge with others!